Skip to content
Videos, Activities & Resource Kits
| | |
| --- | --- |
| Central Texas' groundwater, karst landscape, and innovative residents are fascinating!  Local researchers, agencies, and organizations (the Aquifer District included) have made a lot of the science accessible through videos, activities & experiments, and resource pages. | |
Teaching Activity Kits
The District has several free water-related learning activity kits that can be loaned out to local schools or groups.
Click the image above to submit your Activity Kit Request by Oct. 1 or email Jackie at edu@bseacd.org with questions.
​
Incredible Journey: Central Texas Edition

Kit Description:

Interact with a mock water cycle as you move around the environment, collecting multi-colored beads at stations along the way to create your own water journey bracelet. Great for introductions for K-2 on water cycle basics as well as expandable for further discussions.




Protect the Recharge Activity

Kit Description:

Since the recharge zone is where water enters the groundwater system, it is particularly sensitive to pollutants. Groups have to work together to remove 'pollutants' from a recharge zone without contaminating the aquifer. Accommodates groups of 5-7 with materials for 3-4 groups. Can be a great conversation starter when talking about common groundwater contaminants and the sensitivity of the recharge zone.




Water Toss Conservation Activity

Kit Description:

Aim bean bags at various targets to practice water conservation habits. Each of the targets represents a different water conserving strategy. Tally the number of gallons saved to determine if you are a Water Conservation Ranger, Ninja, or Jedi. This game comes with dishwasher-safe stickers and bragging rights.



---
Educational Videos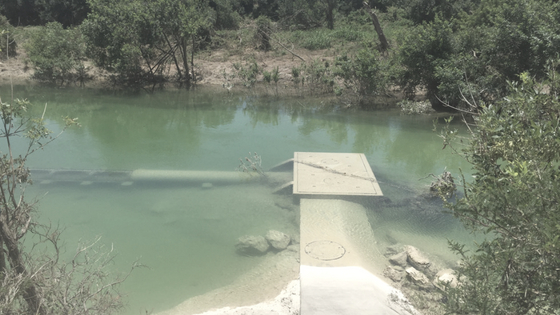 BSEACD Videos
General Groundwater-Related Videos
Edwards Aquifer:
Trinity Aquifer
Upper Onion Creek Dye Tracing:  An explanation of dye tracing methods and footage from a recent dye trace. (1 video, Hays Trinity Groundwater Conservation District)
Monitor Wells:  Discussion of the need for informed management and the role of monitor wells. (1 video, Hays Trinity Groundwater Conservation District)
Exploring the Trinity Aquifer:  An overview of the Upper, Middle, and Lower Trinity Aquifers, cave formation in the Trinity, and area springs. (1 video, Hays Trinity Groundwater Conservation District)
Groundwater Management
Water Wells:
How A Water Well is Drilled:  A view of key elements of well construction, considerations that help protect water quality, pump and pressure tank operation, and home owner guidance. (1 video, American Ground Water Trust)
Monitoring:
Rainwater Harvesting:
---
2018 Teacher Kickstarter Supplies
Teacher Kickstarter Supplies: Oct. 1st Wish List Request Deadline
In October of 2018 the District, in an effort to enhance area water conservation and water quality teaching initiatives, provided teachers the opportunity to win FREE materials to strengthen their programs. Preference was given to schools or groups within the District, and about ten educators were selected from differing schools and educational programs. The ten winners were given these free educational materials so long as they share what impact they had on their students or programs. The materials below consisted of easy-to-use tools that help to track water use and investigate water quality both in and out of the classroom.
Conductivity Meter:

Measures specific conductance and estimates total dissolved solids in water

pH Meter and Calibration Kit:

Measures pH of liquids, with calibration kit

Save A Drop Hose-End Water Meter:

Tracks number of gallons used per session
---
Collaborating Water Educators and Expertise
Many of these agencies collaborate on the annual Groundwater to the Gulf: A Summer Institute for Educators.  Please join us for 3 days of field trips and hands-on science activities!
| | | | |
| --- | --- | --- | --- |
| Contact | Agency | Expertise | Email |
| Adam Comer | Austin Youth River Watch | Water quality monitoring, stream restoration, Colorado River | acomer@ayrw.org |
| Alecia Hudson | Keep Austin Beautiful | Litter abatement, water quality, watershed models, gardening, stream restoration, clean-up projects | alecia@keepaustinbeautiful.org |
| Amanda Ross | City of Austin Parks and Recreation Department | Outdoor learning, nature-based programs, Texas natives, land management for recharge | Amanda.Ross@austintexas.gov |
| Cait McCann | City of Austin Wildlands | Prescribed fire, Texas natives, water quality protection, land management for recharge, caving, urban/wildland interface | cait.mccann@austintexas.gov |
| Adam Comer | Texas Parks and Wildlife Dept-Aquatic Education | Fishing, angler education, riparian habitats, native and invasive fish, instream flow | adam.comer@tpwd.texas.gov  |
| Carolyn Meredith | City of Sunset Valley | Urban forests, green classrooms, trail maintenance, urban/wildland interface | cmeredith@sunsetvalley.org |
| Cinde Thomas-Jimenez | Guadalupe Blanco River Authority | Guadalupe River, Blanco River, water quality, service learning projects, floods, drought response | cinde.thomas-jimenez@gbra.org |
| Katie Bedrich | Colorado River Alliance | Colorado River, Spanish, water availability, outdoor classrooms | katie@coloradoriver.org |
| Geoff Hensgen | Colorado River Alliance | Colorado River, marine biology, Highland Lakes models | geoff@coloradoriver.org |
| Holly Grand | Texas Parks & Wildlife Dept- Coastal | Coastal habitats, estuaries, marine life, instream flows | Holly.Grand@tpwd.texas.gov |
| Jessica Gordon | City of Austin-Watershed Protection Dept, Earth School | Caving, watersheds, point and non-point source pollution, Edwards Aquifer | jessica.gordon@austintexas.gov |
| Melissa Alderson | Texas Parks & Wildlife – Aquatic Education | Texas Aquatic Science, Aquatic WILD, and Texas Waters: Exploring Water and Watersheds | Melissa.Alderson@tpwd.texas.gov |
| Julie Graham | Lady Bird Johnson Wildflower Center | Texas natives, land management for recharge, Nature Nights | jgraham@wildflower.org |
| Linda Ruiz McCall | Bureau of Economic Geology | Texas geology, Balcones fault zone, geologic history | linda.mccall@beg.utexas.edu |
| Lisa Benton | Lower Colorado River Authority | Water quality, aquatic ecology, freshwater mussels, zebra mussels, native/invasive aquatic vegetation, dams and power generation | lisa.benton@lcra.org |
| Margaret Russell | City of Austin, Parks and Recreation Dept. | Children in nature, outdoor classrooms, canoeing, Texas natives, invasives, | Margaret.russell@austintexas.gov |
| Michael Adair | City of Austin, Parks and Recreation Dept.-Sheffield Education Center | Barton Springs, endangered species, salamanders, drought, flood | Michael.adair@austintexas.gov |
| Paul Vickery | Westcave Outdoor Discovery Center | Trinity aquifer, outdoor classrooms, native flora and fauna, guided hikes and programs |  Paul@westcave.org |
| Peggy Murphy | Texas Master Naturalists | Texas natives,birding, water availability, nature-based stories | paxpeg@prodigy.net |
| Robin Gary | Barton Springs Edwards Aquifer Conservation District | Edwards and Trinity Aquifers, groundwater management, GIS, groundwater water quality, wells, caving | rhgary@bseacd.org |
| –vacant– | Texas Water Development Board | Major Rivers, Texas water plan, water conservation | |
| Sara Heilman | City of Austin-Watershed Protection Dept, Earth Camp | Barton Springs, salamanders, caving, macroinvertebrates | sara.heilman@austintexas.gov |
| Susan Wall | City of Austin-Watershed Protection Dept, Earth Camp | Caving, recharge, macroinvertebrate sampling, Barton Springs, green classrooms | susan.wall@austintexas.gov |