Skip to content
Travis County Groundwater Study
| | |
| --- | --- |
| A year-long cooperative study between the BSEACD and Travis County focusing on the hydrogeology of western Travis County.  The study aims to increase the understanding of groundwater trends and aquifer dynamics to help inform residents and policy makers. | |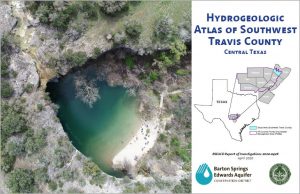 ---
Project Timeline
8/5/20
Atlas Geodatabase published to Texas Data Repository (View Data and Report)
7/28/20
BSEACD Report Published: Evaluating the Potential Groundwater Availability Within a Lower Trinity Aquifer Well Field, Balcones Fault Zone, Hays County, Central Texas (View Report)
7/8/20
Key Findings Presentation to Clearwater Underground Water Conservation District Meeting – Brian Hunt
6/19/20
USGS Staff Finalize Lake Travis Geophysical Survey (View Report)
June 2020
Streamflow and water quality monitoring equipment installation on Rocky Creek at Shield Ranch – Justin Camp & Shield Ranch Staff
April 29, 2020
Final Publication: Hydrogeologic Atlas of Southwest Travis County, Central Texas (View Scientific Report)
Feb/March 2020
Presentations to:
Texas Water Development Board (2/27/20)
Austin Geological Society (3/2/20)
South-Central Geological Society of America (3/9/20)
1/30/20
BSEACD Board voted to approve agreement with USGS for study area investigation of surface and groundwater interaction
12/3/19
SCTWRIG Meeting Presentation – Lane Cockrell (PDF)
11/18/19
Study Highlights Presentation during GMA 9 Meeting – Brian Hunt
10/31/19
UT Karst Field Methods Class Presentation – Lane Cockrell
10/9/19 & 10/10/19
Presentation to SWTCGCD Board and BSEACD Board
10/1/19
Presentation to Travis County Commissioners:
Update on Western Travis County Hydrogeologic Atlas – Brian Hunt, Vicky Kennedy (PDF)
Video stream of presentation – Scroll to time mark (01:28:20), presentation began at 10:18am
9/12/19
BSEACD Board voted to approve Phase II of the agreement with Travis County
7/22/19
Monitoring equipment installed at St. Stephen's Episcopal School well
7/11/19 – 7/12/19
Barton Creek Flow Synoptic in collaboration with City of Austin and Shield Ranch staff
6/13/19
Project Update to BSEACD Board
May 2019
Well profile, sampling, and pneumatic slug testing completed for the Travis County Multiport Well
5/7/19
Geophysical logging of well at St. Stephen's Episcopal School
3/29/19
Installation of a weather station at Westcave Preserve
3/27/19
Presentation to Travis County Commissioners:
Update on Travis County Groundwater Study – Robin Gary, Vicky Kennedy (PDF)
Video stream of presentation – Scroll to time mark (3:30:00), presentation began at 12:01pm
3/14/19
Presentation to BSEACD Board:
Travis County ILA Update – Lane Cockrell (PDF)
12/12/18
Presentation to SWTCGCD Board:
Preliminary Neighborhood Site Visit Summary – Robin Gary, Jackie Vay (PDF)
12/6/18
Preliminary Summary of Travis Co. Neighborhood Site Visits (PDF)
10/30/18 – 11/28/18
Travis Co. Neighborhood Site Visits
10/4/18
Installation of a weather station at Shield Ranch (Note: click on Graphs tab)
8/8/18
Presentation to SWTCGCD Board:
7/3/18
ILA Approved between Travis County and BSEACD (PDF)
---
Well Owner Resources
BSEACD Well Owner Page
www.bseacd.org/Education/Well-Owners
District resources and programs for well owners including information on how to search for water well reports online, local water quality labs that can analyze residential well samples and aids in interpreting testing results, treatment resources, and District Well Owner Guide.
EPA Private Drinking Water Wells
US EPA's private drinking water page with groundwater basics, and resources to protect your home's water with information on testing private well water and how to watch for and identify possible contamination sources.
Texas Well Owner Network
The Texas A&M AgriLife Extension Service has an active Texas Well Owner Network that helps educate well owners about pollution prevention, well maintenance, and water quality issues.
---
Map Gallery
---
Photo Gallery
---
Useful Links
---
Downloadable Boundary Files
In order to use these maps you must download and install the free program Google Earth. If you don't already have Google Earth installed on your computer you can get it here.
---
2018 Neighborhood Site Visits
A big thank you to all those who participated in the 2018 visits!
Water level tracking is particularly important in Edwards and Trinity wells, because water levels fluctuate substantially during drought and wet periods. When home owners know the depth of their pump, a water level measurement can show how much water is above the level of the pump.
In collaboration with Travis County and to help residents better understand groundwater trends, District staff completed five weeks of neighborhood site visits focused in five different areas throughout southwestern Travis County. During the free site visits, staff took a water level measurement (if possible), and measured basic water quality. About 45 well owners participated and over 50 wells were visited total by staff.
Data collected during the visits is currently being compiled and will be shared with participating well owners. These site visits will aid in better understanding of local hydrology and geology.
The five areas included:
Oct. 30-31: Hamilton Pool, Pedernales Area
Nov. 6-7: Spicewood, Briarcliff Area
Nov. 13-14: Lakeway, The Hills, Hudson Bend Area
Nov. 20-21: Bee Cave Area
Nov. 27-28: Westlake, Lost Creek, Oak Hill Area