Skip to content
This page has resources for our well owners.  Click on the links below to scroll to:
Well Owner Guide
The Well Owner Guide covers a wide variety of topics.  Groundwater is a shared resource, and all well owners can do their part to help protect water quality and availability in the District.  Download the guide today, or stop by the office for a hardcopy.
Includes information on:
   – District Overview
– Regional Aquifers
– Well Head Protection
– Well Construction
– Water Quality
– Well Maintenance
– Drought Impacts
– Water Conservation
– Aquifer Management
– Online Resources
Local Water Quality Labs
There are a variety of local laboratories that can test residential well samples.  If you missed the Water Well Check-up or would like to verify your results, you can contact a local lab to coordinate the analysis.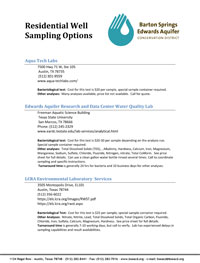 Well Water Checkup & Ask-An-Expert Open House
This year's Well Water Checkup and Ask-An-Expert Open House will be on Wednesday, April 19, 2017.  Screening available to the first 75 well owners in the District to pre-register.  We are finalizing this year's experts and will post the confirmed individuals and agencies as we hear from them.
Many thanks to the experts for being available from 11-1 on the day of the Well Checkup.  You'll be able to bring in your water sample and ask the experts what you've always wanted to know about:
Local groundwater resources and geology (BSEACD staff)
Water Chemistry (Texas State Univ. Edwards Aquifer Research & Data Center)
Well maintenance and info (Mike Endres, Balcones Well Service)
Landscape, native plants, gardening tips (It's About Thyme)
Septic system maintenance (Ron Parker, Hard Rock Septic Const.)
Water treatment systems (Jason Hamilton, Culligan)
2017 BSEACD Well Water Check-up Timeline
Tuesday, March 15:
Sample bags available for pickup at District office*. Can be picked up anytime from March 15- April 18.
Tuesday, April 18 after 5:00pm – After hours dropoff open:
After hours sample drop-off available at the District office. Samples must be less than 24 hours old.*
Wednesday, April 19:
Well Water samples screened in-house for nitrate, pH, and salinity (TDS).  Bacteria will be processed by an off-site lab.  Preliminary results available after a short wait.  Various experts on-hand to answer groundwater related questions while you wait.
*District office is located near 1626 and Manchaca Road in far south Austin.  Address is:  BSEACD, 1124 Regal Row, Austin, Texas, 78748.  Office hours:  8:00am – 5:00pm.  After hours sample drop-off will be available after 5:00pm, Tuesday., Apr. 18 , 2017.  Samples can be dropped off and results will be mailed.
Why Test Well Water?
Private water wells should be tested annually for contaminants that can jeopardize the health of its users, especially vulnerable populations like children, the elderly, or those with compromised immune systems.
What Contaminants Are Included in the Screening?
Samples from private water wells will be screened for common contaminants, including fecal coliform bacteria, nitrates, and high salinity. The costs for these screenings can range from $10-$50 per sample, but during the Well Water Checkup the BSEACD will cover the cost of analysis for private wells within its boundary.
The presence of fecal coliform bacteria in water indicates that waste from humans or warm-blooded animals may have contaminated the water.  Water contaminated with fecal coliform bacteria is more likely to also have pathogens present that can cause diarrhea, cramps, nausea, or other symptoms.
Water with nitrates at levels of 10 parts per million (ppm) is considered unsafe for human consumption.  Nitrate levels above 10 ppm can disrupt the blood's ability to carry oxygen throughout the body, resulting in a condition called methemoglobinemia. Infants less than 6 months of age and young livestock are most susceptible.
Salinity as measured by Total Dissolved Solids (TDS) is also an important characteristic.  Water with high TDS levels may leave deposits and have a salty taste.  Additionally, using water with high TDS for irrigation may damage the soil or plants.
Useful Links
• EPA Private Drinking Water Wells page
• EPA What to Do After the Flood (flooded wells) factsheet
• Tx Well Owner Network Solving Water Quality Problems in the Home (table of treatment systems and what they address) factsheet
• Tx Well Owner Network factsheets