ASR Operational Permit – Ruby Ranch WSC
Timeline
2017
In March 2017, the TCEQ granted permission to conduct an Aquifer Storage & Recovery (ASR) pilot project at Ruby Ranch.
2019
In March of 2019, an extension was granted to continue the pilot project.
In December 2019, TCEQ's Water Supply Division granted the authorization for Ruby Ranch to use the ASR recovered water from Well No. 5 in their Public Water Supply (PWS).
2020
In January 2020, Ruby Ranch Water Supply Corporation (RRWSC) filed an application with the District for a Class D Condition Permit to withdraw up to 15,000,000 gallons/year from the Edwards Aquifer for the purpose of injection, storage and recovery from an ASR well in the Middle Trinity.
In February 2020, the TCEQ granted authorization to Ruby Ranch Water Supply Corporation (RRWSC) to own and operate a Class V ASR Well.
In July 2020, RRWSC published notice in the American Statesman and the Hays Free Press which met the requirements of the public hearing notice.
In August 2020, Final Review of RRWSC permit was conducted by the District.
Key Points over Project
Permit Information
Permit would authorize the production of Class D Conditional Edwards Aquifer water during non-drought periods to be injected, stored and recovered during peak times during summer months.
This is the 4th ASR system approved and permitted by the TCEQ.
RRWSC already has an existing Edwards well (#4) and an existing Trinity well (#5) designated for the ASR system.
RRWSC already holds a Historic Edwards permit for 24.2 million gallons/year and A Class A Conditional for 7.8 million gallons/year.
RRWSC already holds a Historic Permit for Middle Trinity production of 20.3 million gallons /year.
RRWSC is requesting a withdraw amount of 15,000,000 gallons/year from the Edwards Aquifer well #4.
Class D permit requires a 100% curtailment when Stage 2 drought has been declared.
The total storage volume of the ASR system is 50 to 60 million gallons.
Pilot Project
The pilot project consisted of 4 phases.
The first 2 phases of the pilot project were to characterize the suitability of the 2 aquifers.
The last 2 phases finalized the characterization of the suitable aquifers and assessed how much water that is injected can be recovered.
Injection rate at well was 40 – 100 gallons per minute for each phase.
The water level rose 6 – 18 ft during each injection but dropped back down to pre injection levels.
Recovery was pumped at a rate of 90 -100 gallons per minute for each phase.
The water level dropped 4 – 14 ft during recovery operations.
The estimated radial distance of the total storage volume (bubble) is 420 ft with a velocity of 0.3 ft per day to the southeast.
RRWSC ASR Pilot Project 4 Phase Injection and Recoverable Amounts
| | | | |
| --- | --- | --- | --- |
| Phases | Volume Injected (gallons) | Volume Recovered (gallons) | Volume in storage at end of phase (gallons) |
| Phase 1 | 50,000 | 84,000 | -34,000 |
| Phase 2 | 280,000 | 380,000 | -100,000 |
| Phase 3 | 9,000,000 |       4,500,000 | 4,500,000 |
| Phase 4 | 11,000,000 | 2,600,000 | 12,900,000 |
| | | | |
| Total | 20,330,000 | 7,564,000 | 12,900,000 |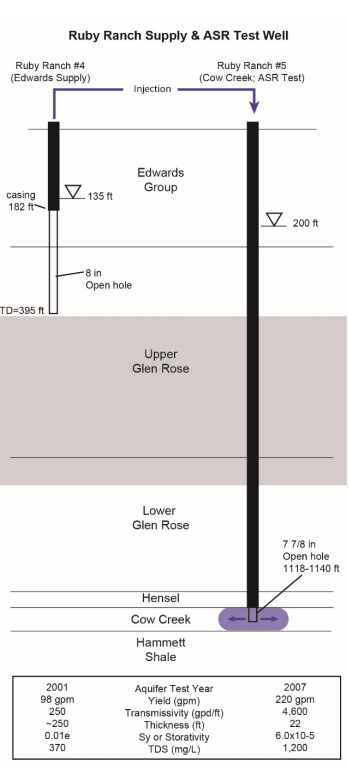 Schematic diagram of the RRWSC ASR system. Figure from Smith et al., 2017
For More Information:
Fact Sheet: Ruby Ranch Fact Sheet;  Appendix D & E of Factsheet
TCEQ Letters: TCEQ SIGN ASR UIC AUTHORIZATION Ruby Ranch WSC; TCEQ APPROVAL LETTER WITH CONDITIONS
Public Hearing Info: RR Public Hearing 8/13/2020 Zoom Link…