Skip to content
This page has resources for our well owners.  Click on the links below to scroll to:
Well Owner Guide
The Well Owner Guide covers a wide variety of topics.  Groundwater is a shared resource, and all well owners can do their part to help protect water quality and availability in the District.  Download the guide today, or stop by the office for a hardcopy.
Includes information on:
– District Overview
– Regional Aquifers
– Well Head Protection
– Well Construction
– Water Quality
– Well Maintenance
– Drought Impacts
– Water Conservation
– Aquifer Management
– Online Resources
How to Search for a Well Log
Since 2003, well drillers have been required to submit well logs online; this makes them relatively easy to find through the Texas Water Development Board' Water Data Interactive map.  Prior to 2003, well drillers submitted hardcopy logs to TCEQ; many of these logs have been cataloged according to well grid and (if luck is on your side) can be found by searching pdfs available through TCEQ's historic well log viewer.  Here are some tips and tricks, depending on the date your well was drilled.
Drill Date: 2003 – present
Search for Submitted Well Driller Reports through TWDB Water Data Interactive
Use Water Data Interactive's address search and type in your address.
Under the Groundwater tab, check the box for Well Reports (look for orange dots).  Note:  purple dots are wells that have either water level or water quality data.
Use your mouse to click on an orange dot to open the popup window with well details.
Select the hyperlinked Well Report Tracking Number to open a pdf version of the Submitted Well Driller's Report.
Drill Date: prior to 2003
Use Hays CAD to find original owner & Section/lot number (this will be helpful because some scanned documents do not reference a street number)
Open TCEQ's historic well viewer and zoom into neighborhood of interest.
Identify the grid number that corresponds to your location of interest. Note: before GPS was widely available, drillers used a statewide grid system to approximate locations for wells.
Select Plotted Water Well Reports & fill in Grid Number and County (Ex.: 68-08-5, Hays)
Open first pdf and scroll through visually searching for Owner, Address or Section/Lot of interest.
If you find it, CELEBRATE!!!!!
Print that 1 page (not the whole pdf).
Local Water Quality Labs
There are a variety of local laboratories that can test residential well samples.  If you missed the Water Well Check-up or would like to verify your results, you can contact a local lab to coordinate the analysis.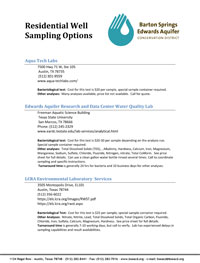 Interpreting Your Results
Treating Your Water
Well Water Checkup
This year's Well Water Checkup will be on Wednesday, April 25, 2018.  Screening available to the first 50 well owners in the District to pre-register.
2018 BSEACD Well Water Check-up Timeline
Monday, March 26:
Sample bags available for pickup at District office*. Can be picked up anytime from March 26- April 24.
Tuesday, April 24 after 5:00pm – After hours dropoff open:
After hours sample drop-off available at the District office. Samples must be less than 24 hours old.*
Wednesday, April 25:
Well Water samples screened in-house for nitrate, pH, and salinity (TDS).  Bacteria will be processed by an off-site lab.  Preliminary results available after a short wait.
*District office is located near 1626 and Manchaca Road in far south Austin.  Address is:  BSEACD, 1124 Regal Row, Austin, Texas, 78748.  Office hours:  8:00am – 5:00pm.  After hours sample drop-off will be available after 5:00pm, Tuesday., Apr. 24 , 2018.  Samples can be dropped off and results will be mailed.
How To Take A Water Sample:
Why Test Well Water?
Private water wells should be tested annually for contaminants that can jeopardize the health of its users, especially vulnerable populations like children, the elderly, or those with compromised immune systems.
What Contaminants Are Included in the Screening?
Samples from private water wells will be screened for common contaminants, including fecal coliform bacteria, nitrates, and high salinity. The costs for these screenings can range from $10-$50 per sample, but during the Well Water Checkup the BSEACD will cover the cost of analysis for private wells within its boundary.
The presence of fecal coliform bacteria in water indicates that waste from humans or warm-blooded animals may have contaminated the water.  Water contaminated with fecal coliform bacteria is more likely to also have pathogens present that can cause diarrhea, cramps, nausea, or other symptoms.
Water with nitrates at levels of 10 parts per million (ppm) is considered unsafe for human consumption.  Nitrate levels above 10 ppm can disrupt the blood's ability to carry oxygen throughout the body, resulting in a condition called methemoglobinemia. Infants less than 6 months of age and young livestock are most susceptible.
Salinity as measured by Total Dissolved Solids (TDS) is also an important characteristic.  Water with high TDS levels may leave deposits and have a salty taste.  Additionally, using water with high TDS for irrigation may damage the soil or plants.
Neighborhood Site Visits
Water level tracking is particularly important in Edwards and Trinity wells, because water levels fluctuate substantially during drought and wet periods.  When home owners know the depth of their pump, a water level measurement can show how much water is above the level of the pump.
2019 Neighborhood Site Visits
The 2019 neighborhood site visit dates and areas will be announced, but are expected to be scheduled in the spring.
2018 Neighborhood Site Visits
The 2018 dates and areas included:
May 15-16:  Hugo Lane, Falconwood, Summer Mt. Ranch off Ranch Road 12
May 22-23:  Northern segment of Hilliard Road
As a pilot program, District staff scheduled several days for neighborhood site visits focused in two different areas.  Site visits were free of charge.  Staff took a water level measurement (if possible), measured basic water quality, and screened for fecal coliform bacteria.  The site visits were similar to the screening provided through the annual Well Water Checkup with the addition of a water level measurement.